Town Link
s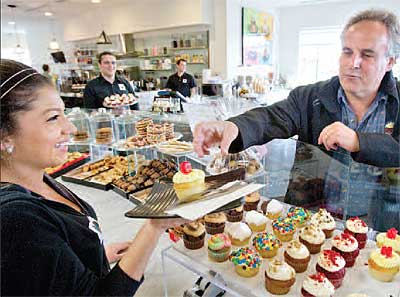 Long Branch Mayor Adam Schneider stops by Cuptail Hour at Cake Bake & Roll during First Saturday Festivities at Pier Village, Long Branch.
Photo by Andy Mills
**************************
Here comes more sand
On Wednesday, Congressman Frank Pallone announced that he had secured an additional $7.5 million for beach replenishment in Monmouth Beach, and possibly a section of North Long Branch. Along with previous allocations and state contributions, that will give a respectable $12-14 million for adding more sand to the beaches.
It's been an uphill battle to get the funding for these projects the last few years, since presidents haven't been including beach replenishment in their federal budgets.
**************************
Pax building waiting to go-go
Back in 2008, Pax Construction got approval from the city to put up a new building on Third Avenue and Broadway. It included restaurants, retail, and live-work space. Some people have been wondering what's been happening, and if that's going to get built.
We've been told that the reason for the delay isn't Pax or the economy, it's the state. It's actually the parcel where there used to be a go-go bar. There needs to be an environmental review on the site, and the company is waiting for word on when they can start work.
**************************
Ferraina reactions
The community is reeling about the allegations against former Long Branch Schools Superintendent Joseph Ferraina - though there are many different reactions.
Word is that some of the big names in the city don't believe a word of the accusations, and think it's totally fabricated. Ferraina has many friends.
On the other hand, there have been some very nasty remarks about Ferraina as well, from people willing to accept every word of the charges. During his time as super, he made a lot of foes as well.
And there's a third group, somewhere in between. One person said that they didn't like Ferraina, but the things in the allegation were completely over the top and it was unfair to accuse anyone of that. Another said that they'd believe there was an affair, but not anything like this.
**************************
Yard Sale Weekend
Remember, the City Wide Yard Sale is this Saturday and Sunday. No permits are needed to hold a garage sale in Long Branch then.
Many of the sales are listed in The Link. Clip out the guide on page 30 to see where you can go for some great bargains.
**************************
Listings will stay free
For the rest of the summer, The Link will continue to offer free listings for yard sales. Just e-mail LocalLinkNews@aol.com with the location and time of the sales. Deadline: Monday at noon for Thursday publication.
**************************
Tre Amici Summer kickoff
Tre Amici, 628 Ocean Ave., West End, will hold their Summer Kickoff Party on Tuesday, May 24, 7:30-10 p.m.
This event will be full of great food, drinks, and fun. There will be no cover for this event, which will raising money for The Community YMCA and The Monmouth County Boys and Girls Club. There will be opportunities to donate, and win great raffle prizes.
For more info, call 732-571-8922.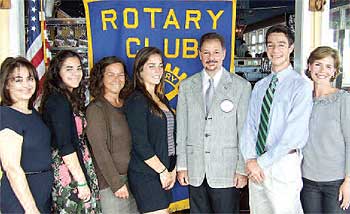 The Rotary Club of Long Branch presented six $1,000 scholarships to three students from Long Branch High School and three from Shore Regional High School during the Rotary Club meeting at Rooney's Oceanfront Restaurant on Friday, May 13. The Rotary Club of Long Branch has been awarding scholarships to local students for over 20 years.

**************************
Managing the city's cats
Council members say they're interested in hearing more about the Monmouth County SPCA's TNR (Trap, Neuter, Release) program for feral cats.
On Tuesday, Sharon Wise, a volunteer at the SPCA, said that the program collects feral cats, neuters them, and returns them to neighborhoods, where the colonies can be looked after and fed by volunteers.
This keeps new kittens from popping up all over, and the spayed and neutered cats are less likely to wander.
Sea Bright and Eatontown have started their own programs.
"If you go to Sea Bright, there are a ton of cats over there," Wise said. "It's a problem all over, and TNR is the best solution."
**************************
Hall of famers
Councilwoman Dr. Mary Jane Celli announced Tuesday that Long Branch Mayor Adam Schneider and former councilman Michael DeStefano have been inducted into the League of Municipalities Elected Officials Hall of Fame.
To qualify, an official must have served at least 20 years in elected office.
**************************
Attention: Monmouth Beach veterans
The Monmouth Beach Veterans Association is about to restore an honor roll of veterans who lived in Monmouth Beach. The original honor roll, which dates back to World War II, has been lost.
They are seeking the names of veterans from all services who lived in Monmouth Beach. If anyone would like to have a name listed on the honor roll, please contact John Sheeran at 732-870-2405 or by mail to John Sheeran, 11 Griffin St., Monmouth Beach NJ 07750.
All they need is the veteran's name, branch of service, the years they served and when they lived in Monmouth Beach. Piano Recital
The Long Branch Schools will hold a piano recital on May 23, 5:30 p.m. at the Long Branch High School media center, 404 Indiana Ave., Long Branch. This is the second public performance of the year, and serves as the students' final exam.
**************************
Coastal Defense Day
The Long Branch High School Air Force JROTC group will be volunteering at Sandy Hook's Coastal Defense Day, this Sunday, May 22nd from 11:30 a.m.-4 p.m. This is a new unit formed this school year.
**************************
SB Firemen's Fair
From May 19-22, the annual Sea Bright Firemen's Fair, with carnival rides, games, food, wine and beer, live music and 50/50 raffles. Hours are Thursday, 5-11 p.m., Fri., 5-12, Sat., 4-12, and Sun., 2-9.
**************************
No quorum in SB
The Sea Bright Borough Council meeting for this Tuesday had to be postponed because there wasn't a quorum. It's been rescheduled for this Friday, May 20, 8 a.m.
**************************
Clam Chowder fundraiser
Homemade Manhattan Clam Chowder is coming to the Long Branch Elks Lodge #742, corner of Garfield and Memorial Pkwy., on Friday, May 20. Call Bob to reserve a quart for $5, 732-618-3809.
This is in conjunction with their All You Can Eat Spaghetti Dinner that evening, featuring salad, chicken park, sausage, peppers and onions, homemade meatballs, pasta fagioli, baked ziti, spaghetti, and coffee, tea and dessert.

**************************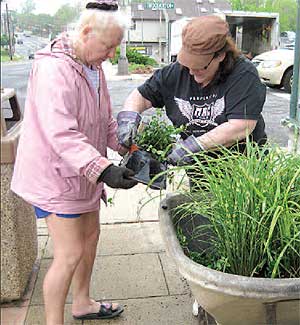 A donation from Lowe's Building Center has allowed the Pride in Eatontown Committee to fill the empty planters on Main Street with flowers and greenery. Members of the Pride Committee will maintain them with the help of area businesses. Three of the businesses, Kas DanceWorks, Pizzuto's Ravioli, and Far East Taste, have already agreed to water the plantings. Lack of regular watering was one of the reasons previous efforts to spruce up the area failed. Louis Kane of Sienna Landscaping LLC is donating his time, equipment and expertise to fill the planters and assist with weeding and changing the plantings with the seasons. Shown are Pride in Eatontown volunteers Helga Schuette and Barbara Olsavsky, who conceived the plan.


O'Neill Photography
Sports Photography Experts!
7 Monmouth Road
Oceanport, NJ 07757
(732) 829-4951


**************************
Long Branch Youth Soccer
Tryouts are starting for Long Branch Youth Soccer. They will be held at Manahassett Creek Park, on Field #5 at the north end.
¥ For boys born between Aug. 1, 1996 and July 31, 1997, tryouts are Thursdays, May 19 and 25, 6-7:30 p.m. Call 732-489-3857 for more info.
¥ For those born between Aug. 1, 1999 and July 31, 2000, Sat., June 18 and 25, 3-4:30 p.m. Call 732-997-9459 or 732-318-7965.
¥ Between Aug. 1, 2000 and July 31, 2001, is also Sat., June 18 and 25, 3-4:30 p.m. Call 732-997-9459 or 732-318-7965.
¥ Between Aug. 1, 2002 and July 31, 2003, Thur., May 26 and June 2, 6-7 p.m. Call 732-614-9671.
**************************
Friends of Library Dinner
Arleen Mavorah, local author of a diet memoir, will be the guest speaker at the Annual Friends of the Long Branch Library Dinner, to be held June 1, 6:30 p.m. at Rooney's Oceanfront Restaurant, Long Branch. Price is $34, and included buffet. RSVP by May 27.
You can pay in person at either library branch (the main one on Broadway or the Elberon branch). For more information, visit www.lmxac.org/longbranch.
**************************
Helen Shultz Scholarship
In other library news, the $1,500 Helen R. Shultz Scholarship will be awarded to a West Long Branch or county student who has been accepted into a library science or paraprofessional library program for the 2011-12 academic year. Interested applicants should send a resumŽ to Helen R. Shultz Scholarship Committee c/o Dolores Ferragano, Corresponding Secretary, West Long Branch Public Library, 965 Broadway, West Long Branch NJ 07764.
**************************
Holt: Reckless drilling
Much of the nation may be okay with offshore drilling, but not New Jersey.
Last week, 12 of New Jersey's 13 House members opposed legislation that would open up much of the U.S. East Coast to environmentally and economically dangerous offshore oil drilling. Lawmakers were led in their opposition by local Congressman Rep. Rush Holt, the ranking member of the U.S. House Subcommittee on Energy and Mineral Resources, which has jurisdiction over domestic drilling policy.
Holt and other Democrats opposed the drilling-expansion bill, and two other related bills earlier in the week that aimed to speed the leasing and permitting process for new drilling.
"Time and again over the past week, I've referred to the majority's trio of offshore drilling bills as 'amnesia acts,'" Holt said. He said that proponents "willfully forget the lessons derived - at great cost in lives and livelihoods - from the Deepwater Horizon spill last summer."
Biz Buzz
¥ If you sell your gold and silver at Atlantic Gold Buyers, Eatontown, and present the coupon on page 2, you can receive an additional 10 percent.
¥ Amy's Omelettes in Ursula Plaza is offering 15 percent off with their coupon on page 8.
¥ Summer is coming, and while that brings a lot of good things, it also brings more bugs. Fortunately, Lapidus Decor is offering screen repairs. See page 18 for details.

WANT MORE TOWN LINKS? CLICK HERE!